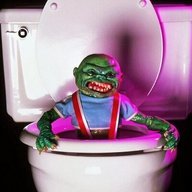 Exclusive Members of...
Permanent Meltdown
From the trivial to the major, post it here.

It annoys me when someone tells me to have a great day, or enjoy the rest of the day, or to have a great weekend, and then don't say anything when I tell them thank you and to also have a great day or weekend. If I knew in advance these assholes were going to ignore my returned pleasantry I'd either leave it to just telling them thank you or not say anything.