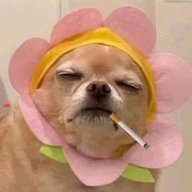 Honky Tonk Nigger
Site Supporter
I could care less

what Mr. SSS fucking thinks.

You

could

care less about me? That means you care about me. See, the proper way to say or write that is "I

couldn't

care less about my failed grasp on the English language because nobody expects anything from me IRL."

That means you don't care at all. "I COULD care less" means you

do care

, to one extent or another.

You're busted. Easily. Bad troll, bad fluency of English. Now be on your way, retard...

SSS

- Disappointed in your sub-standard trolling skills.

Not once did I say your pic was fake. Why? I don't care. You don't need to prove yourself to me. You, on the other hand, try to get others to prove themselves to you like they owe you something. Who gives a flying fairy fuck what anyone looks like? I sure as hell don't. You dwell on a lot of stupid shit. You're so worried about who looks like what that you can't even notice the ass you are carrying on your own shoulders. I conduct business with MY face on a DAILY basis. Someone just left my house....met him on a forum just like this...drove from Georgia just to drop off a collection of tarantulas....just because you don't believe its me, doesn't mean its not me. Other people can vouch for me. I don't need your fucking approval.
Yes you proved yourself to me. Now can you send me noods?? :-)