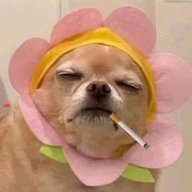 Honky Tonk Nigger
Site Supporter
This is funny since I always thought the word maven had a feminine connotation and thus I thought Damaged Maven was a female......lol

Me too lol. Maybe he's a cuckold sissy that lets the "goddess" spank his ass and bang him with a strap on lol.

Just kidding

@Damaged Maven

!

NTTAWWT....

What??

Work it out. Word by word. Google would be cheating.
Damn it! What would it hurt for you just to tell Me??