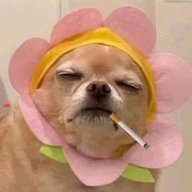 Honky Tonk Nigger
Site Supporter
Thinking of all the naughty little things I want to do to

@SHAMPAIN

You're probably a guy lol

100% more balls than you.....thats 4 sure.....but no, I was born with a vagina and it shall stay that way. ;)

Whatever you say sir.

If it makes you more comfortable knowing that you're talking to a woman that has bigger balls than you and calling her a sir so that it doesn't ruin your alter ego......then so be it. I will be "your" sir....and you can be "my" little forum bitch.
Yes you have much anger so you could be a fat tub of shit female I suppose.